Paul Beswick, a Registered Professional Engineer, founded Beswick engineering co., inc. in 1964. The company was incorporated in the state of Massachusetts and began as a small engineering consulting firm. While consulting, Paul continued to broaden his knowledge of manufacturing techniques through work with contract manufacturers. Eventually Paul bought his first automatic manufacturing machine. Over the years, more machines were added to the lot until he had a facility that could manufacture its own products. Among the first products designed by Beswick engineering were cylinders, regulators and valves.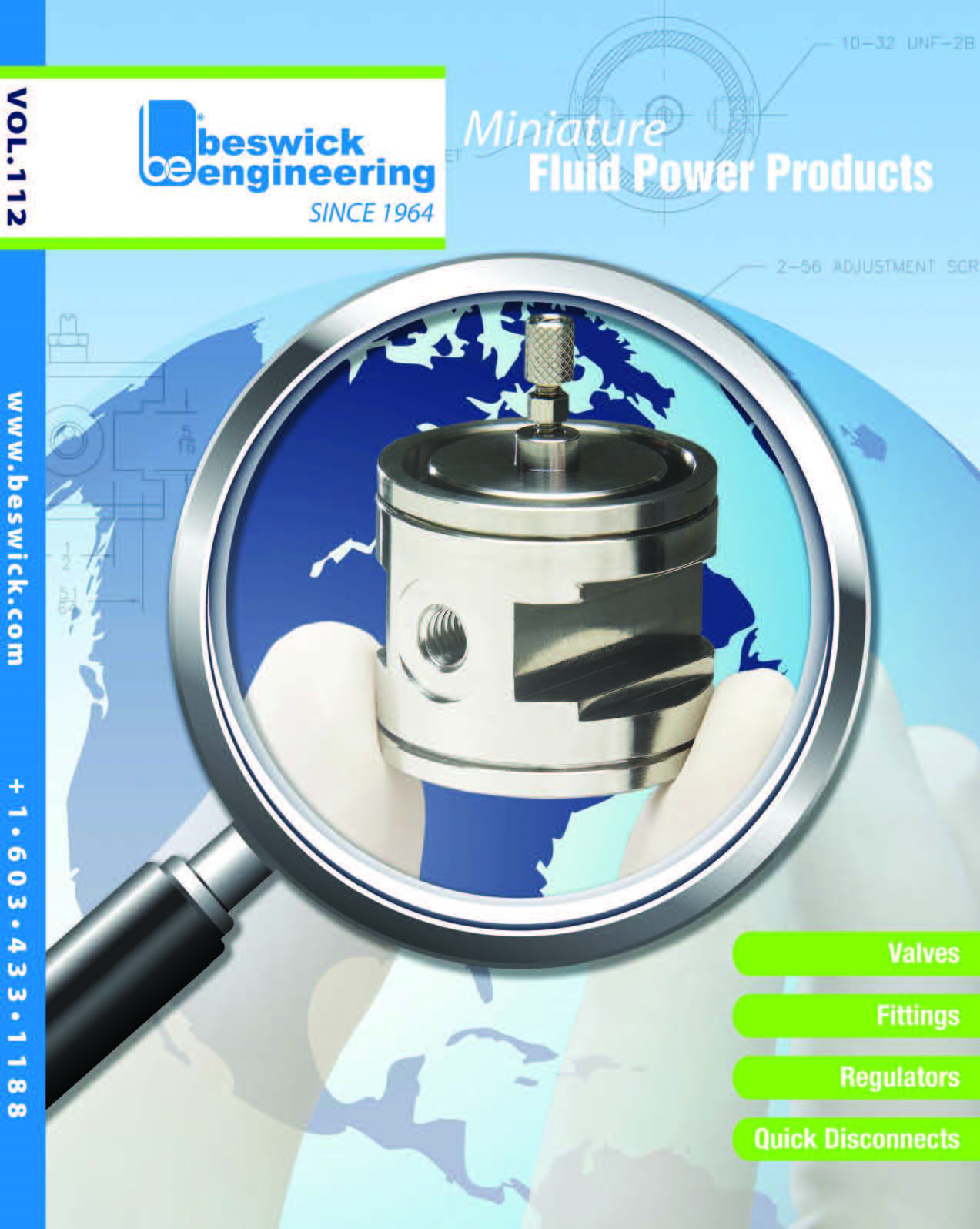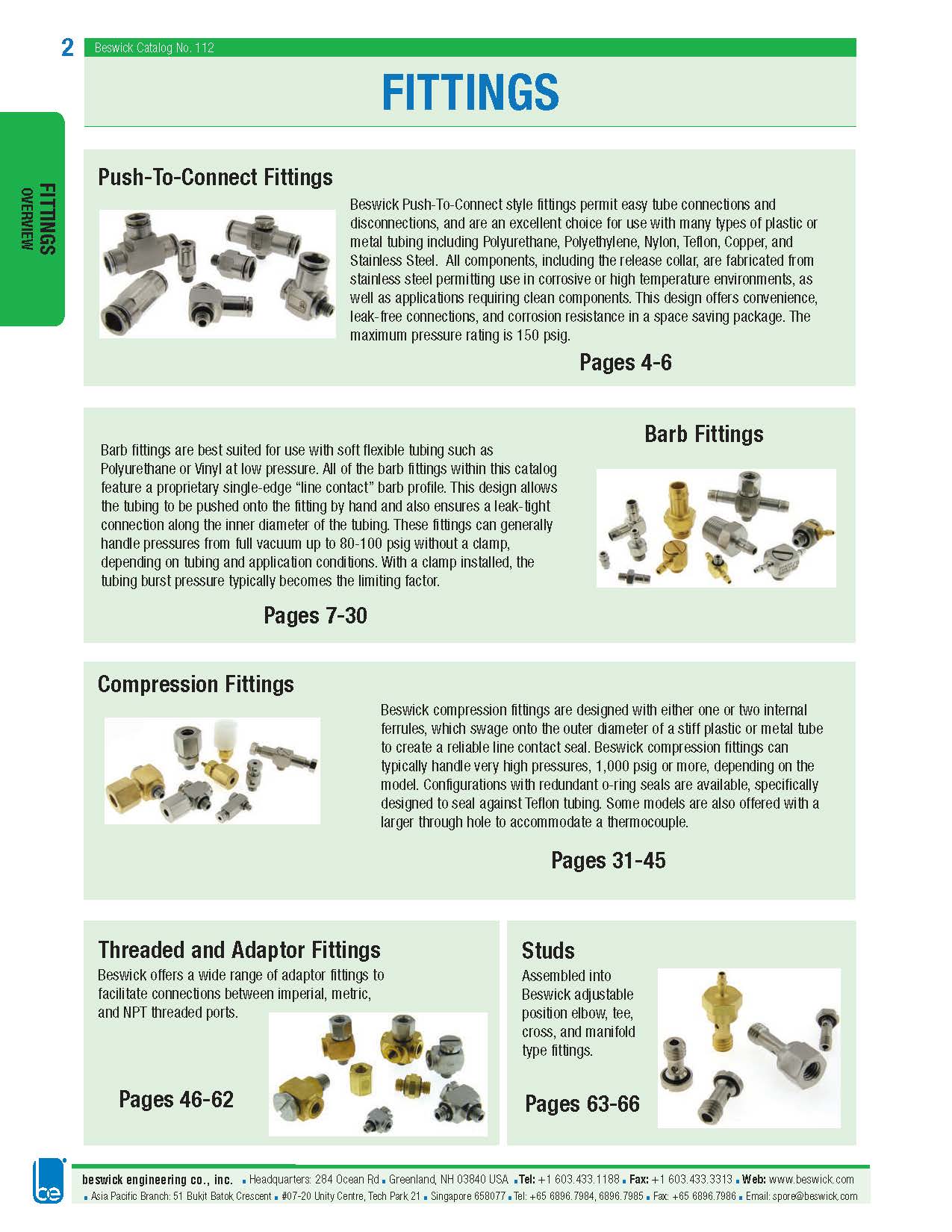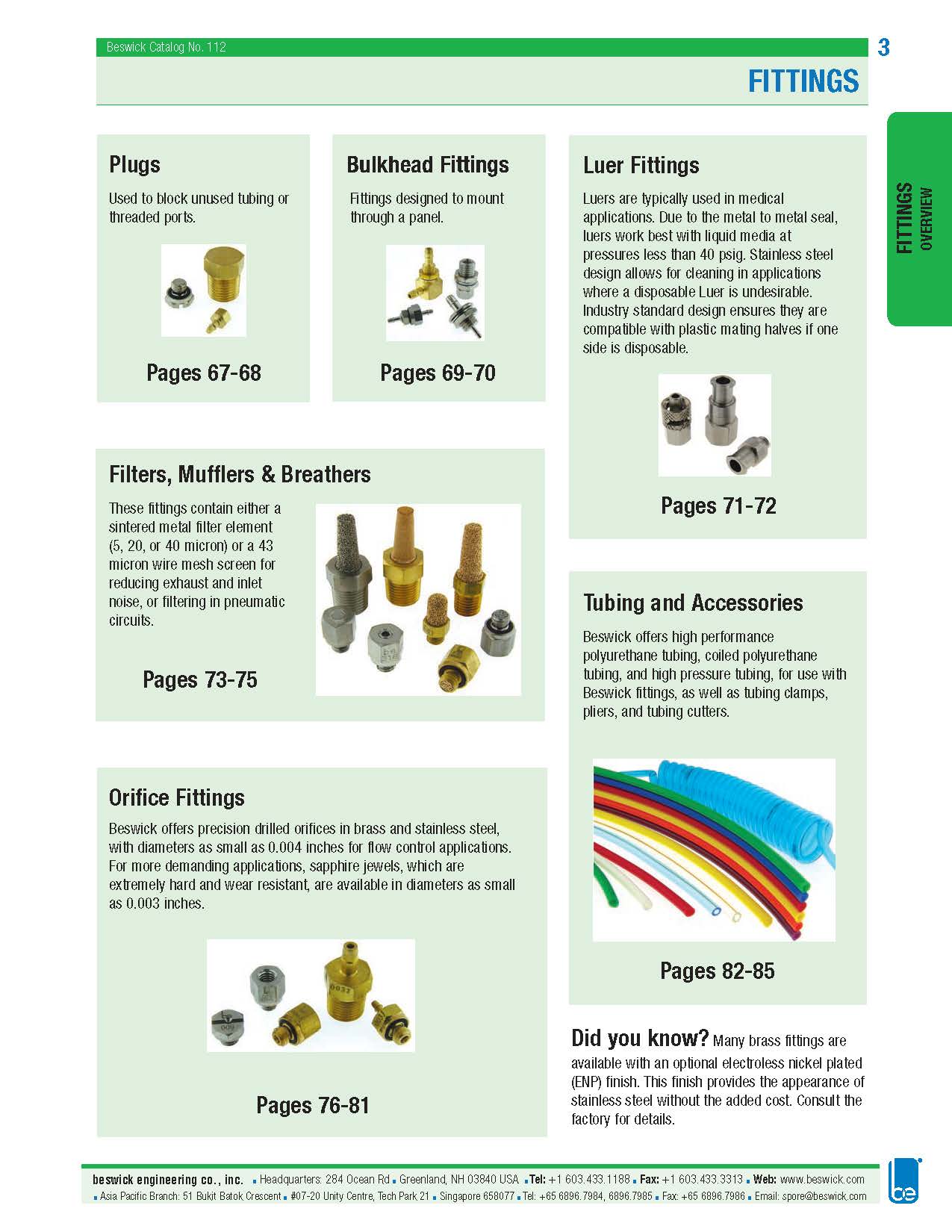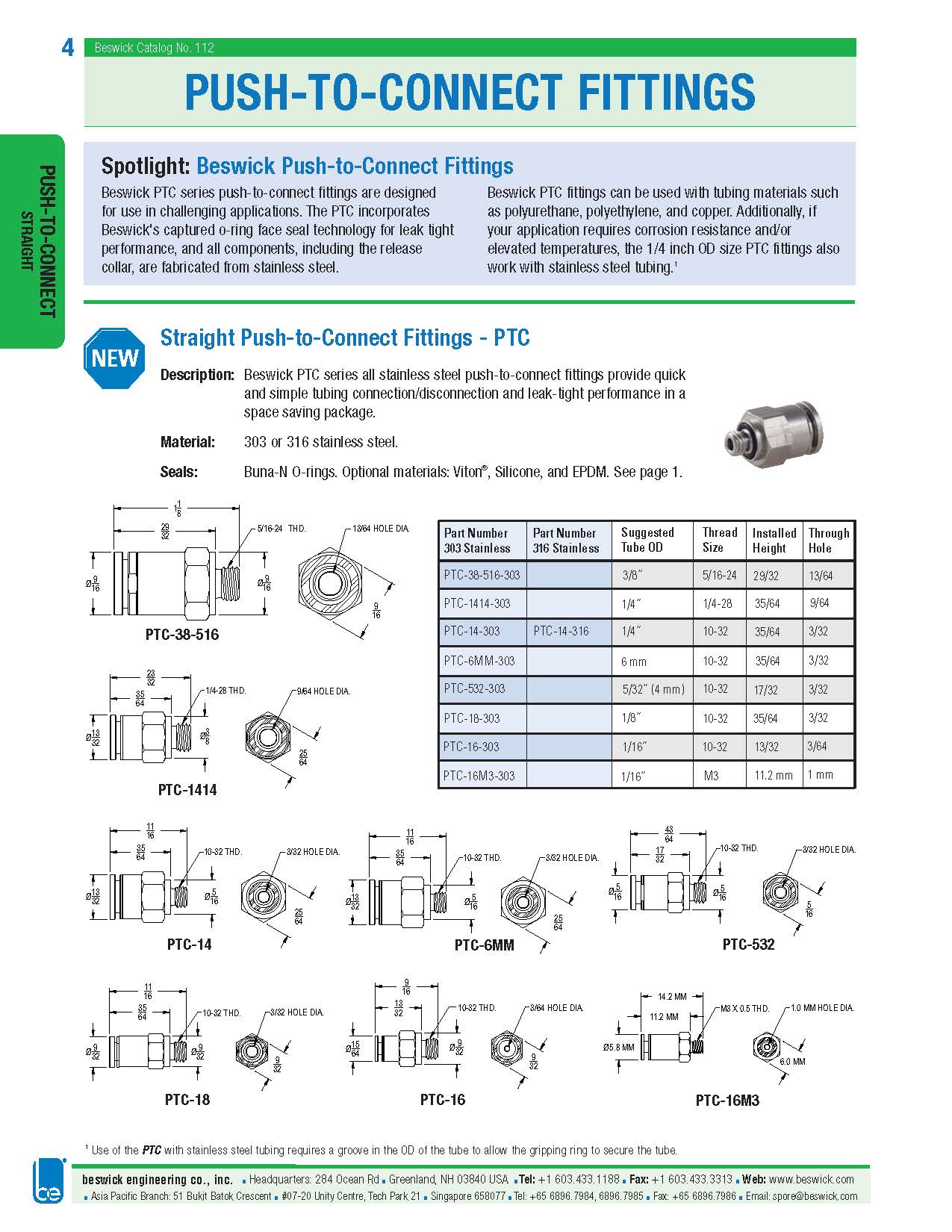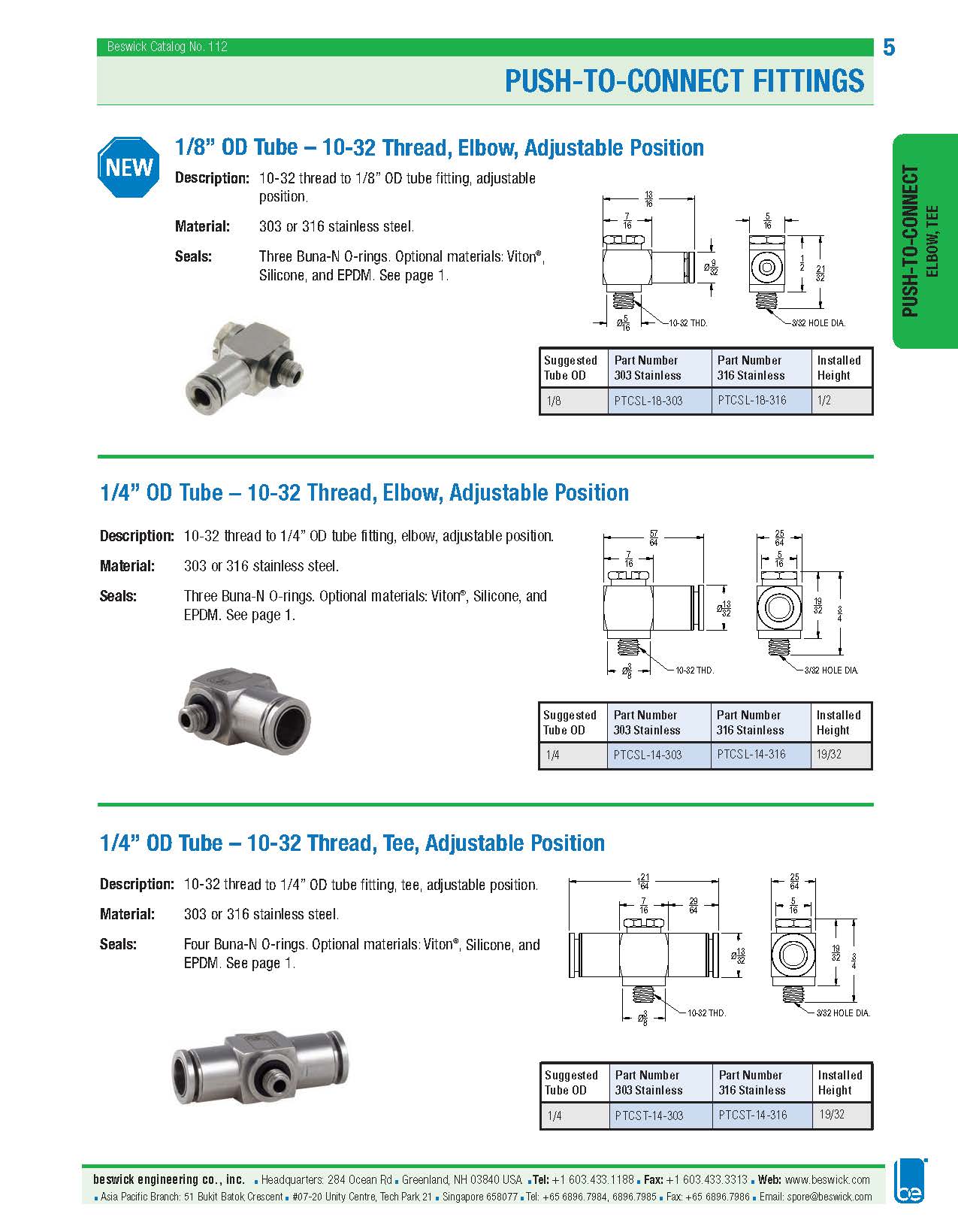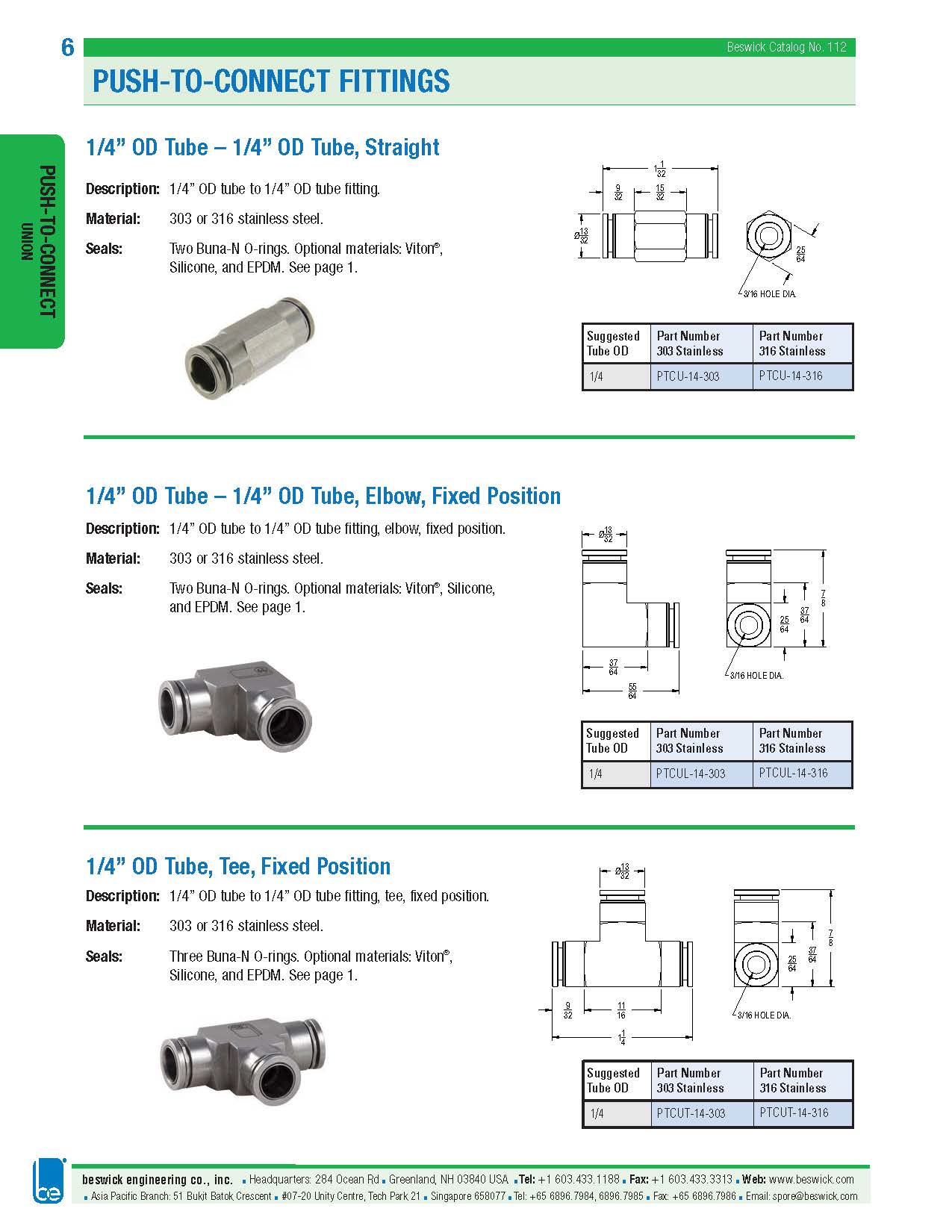 The Beswick fitting line got started in the early 1970's. Paul Beswick was visiting an account to discuss a valve application, when engineers shared their frustrations over the unreliable brass fittings they were using. Paul offered to look into their problem and design a fitting that would not leak or loosen over time. Paul's research lead to the design and development of the first 10-32 threaded o-ring face seal fitting. The o-ring fittings also incorporated another innovation, a single edge barb design, which proved to be easy to use and leak proof in the application.
Little by little Paul Beswick expanded the product line to include a variety of o-ring fitting configurations, regulators, valves, cylinders, and quick disconnects. In the late 1970's Beswick engineering introduced an MLAS series fitting. This innovative fitting is a miniature brass, adjustable position, elbow with a 10-32 thread. The fitting incorporates two o-ring seals, one o-ring on the stud and one o-ring to seal the 10-32 thread. The MLAS fitting is currently our most popular miniature fitting and has not been duplicated by any competitors to date.
In addition to manufacturing products in brass, the line was expanded to include 303 and 316 stainless steel. The stainless steel products began to take off in the 1980's and there was a large increase in stainless steel sales in the mid 1990's.In 1996 Beswick engineering co., inc. moved from its location in Ipswich, Massachusetts to a plant in Greenland, New Hampshire. The move provided the company with additional office space to support its continuous growth, a brand new machine shop area, and a scenic location for the employees and their families.
Since 1996 Beswick has experienced years of record growth and profit. In January of 2000 the company celebrated the opening of a branch office in Singapore. The office in Singapore was opened to serve the growing customer population in the far east and provide Beswick with a larger international presence.
Today, Beswick engineering remains the leader in providing the largest range of 303 and 316 stainless steel fittings in the world. In addition to our expansive 10-32 threaded fitting line, Beswick offers pipe thread fittings, metric fittings, compression fittings, luer fittings and more. Beswick engineering has also expanded upon our miniature pressure regulators, cylinders, quick disconnects and valve options; some of which hold patents. The product line continues to grow through custom designed products for customers and through Beswick's own innovation and industrial research.
Shanghai HangOu Mechanical & Electrical Equipment Co., Ltd. was established in 2006,  and is specializing in the import of mechanical & electrical equipment spare parts, instruments and other products and brands of worldwide. These products are widely used in metallurgy, iron and steel, petrochemicals, energy, aerospace, container terminals, automation, water conservancy, papermaking, power plant, textile, injection molding, rubber, medical treatment, food packaging and other fields.  Our main product lines include: sensors, motors, switches, electronic scale, encoders, controllers, analysis meters,optical fibers, gratings,valves, warning lights, cable, towline, distributor, gearbox, relays, buffers and imported hardware. ShangHai HangOu Mechanical And Electrical Equipment Co.,Ltd
Address: Room 905, Building No.1, Guoson Centre, Lane 388, Zhongjiang Road. Shanghai, China.
Tel:0086-21-51085161
Fax:021-51870910
E-Mail:sales@shhangou.com
sales@shhangou.com.cn
Zip Code:200062
Website:www.shhangou.com
www.shhangou.com.cn